Texas manager Ron Washington seems to have no second thoughts about taking Vlad and his three errors on the right side of AT&T Park out of the second game. Jeff Caplan of ESPN Dallas reports.
If Ron Washington is planning to stick with Vladimir Guerrero in right field in Game 2 after he labored through Game 1 with two eighth-inning errors, the Texas Rangers manager didn't make a definitive statement after the game.

"No, I don't," Washington said when asked if he'll have to reconsider the idea of using Guerrero in the field with the designated hitter not in effect. "A couple balls got by him."

But, Washington had never actually committed to starting Guerrero in right for Game 2. He's continually left it open, saying he would wait to see how the season-long designated hitter fared in Game 1.

…

As for Game 2, Guerrero said he he wants to play, but he knows it's not his call.

"It is not my decision. Wash has to decide that," Guerrero said through an interpreter. "If I am here, I want to play. But, it is his decision. It is not mine.
Perhaps Washington should watch these clips on repeat before making his decision on who starts in right field Thursday night.
Here he is charging a single by Edgar Renteria in the eighth inning (whoops).

Here he is chasing the ball hit by Freddy Sanchez around and around.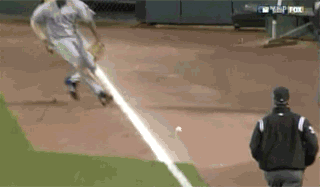 (Error 1 and Error 2 courtesy of Uncle Russel of McCovey Chronicles)
I'm fairly certain Rangers fans are praying that Texas wins this game and sweep the home slate in Dallas, because the thought of Cody Ross lining a single to right field with a man on first in Game 6 and Game 7 and Guerrero charging at it is enough to terrify even the heartiest of baseball fans in the Lone Star State.